Sean L's Pick:
Wolverine #75 Dark Reign
Although most of us had written the new Dark Wolverine (Daken - Wolverine's son) off as a retarded Insane Clown Posse ringleader. Sean accidentally forgot to drop it from his hold and he shocked us all by choosing this as his pick of the week. Sean feels Daken may actually prove to be a character to watch, even though it's under protest by the rest of us, He still stands by his pick and has challenged you and each of the warriors to check it out.
Creators: Writer: Daniel Way, Marjorie Liu / Art by: Giuseppe Camuncoli
.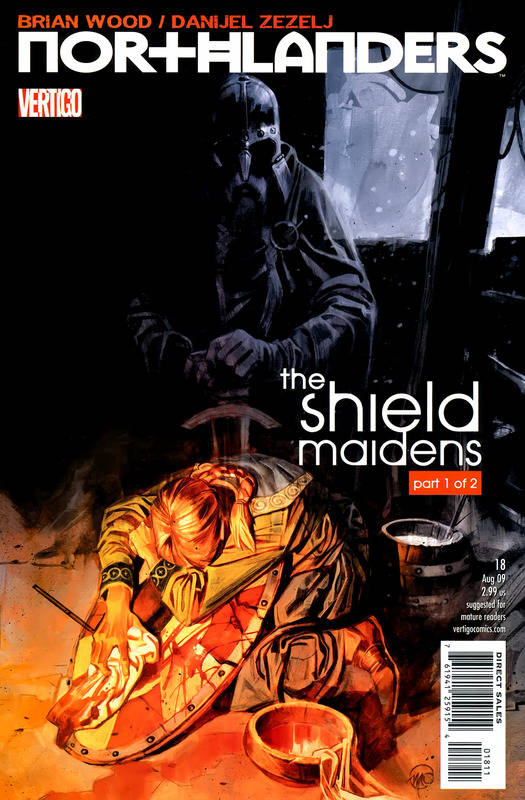 For his second pick of the week:
Northlanders #18
.
Brian Wood's version of vikings is really relatable and completely entertaining. While it talks about viking life its not necessarily the focus of the series and has been an ultimately a really entertaining read. With a constantly changing artist on the series we like the feel it lends to the series. The warriors try to determine whether Northlanders or Viking is the poor man's viking novel.
Creators: Writer: Brian Wood / Art by: Vasilis Lolos
Jonas' Pick:
Destroyer #4
Another Kirkman BLOODBATH for your dollars to be thrown at! Cory Walker and Kirkman reunite to make this awesome title on the MAX marvel label and feature as much blood and guts as possible! Destroyer is a hero who's about to die and has decided to tie up all the loose ends left over and by tying up loose ends we mean he rips arms off his old enemies and beats them to death with their own limbs!
Creators: Writer: Rober Kirkman / Art by: Cory Walker
John's Pick:
100 Bullets
100 issues, 1 briefcase, 1 gun and 100 untraceable rounds of ammo and the proof that your husband,wife,brother,sister,friend,family member was murdered by the hands of a bad guy make for one of the best crime saga's the comic industry has ever seen. I love me a good revenge story and this one is jam packed with tons of them small story arcs beautifully combine into the overall story that leaves you stunned at how well this whole thing was tied together.
Creators: Writer: Brian Azzarello / Art by: Eduardo Risso - awesome graphic covers by Dave Johnson
Henny's Pick:
Creepy
A horror anthology of 48 pages of awesome art and stories that make the Crypt-keeper shiver. The awesome Eric Powell of The Goon fame did an awesome cover that made Henny pick up this title and review for your readin' pleasures! With interior art by Jason Shawn Alexander of Dead Irons, Angelo Torres of Mad magazine and tons more make this book well worth the cost of the cover impulse buy
Creators: Writer: Neil Kleid, Joe Harris, Dan Braun, Mike Woods, Shawna Gore / Art by: Alex Toth, Angelo Torres, Bernie Wrightson, Jason Shawn Alexander, Saskia Gutenkunst, Hilary Barta
Hey Quesada! Bring back the editor's notes! Let them have their voice! We demand them back. Please.
Sean Leslie found an interesting post on
the future of ComiCon
and the shrinking population of comic books at comicon