This week we review the all new Spider-Woman upcoming series that is also being made into
motion comics
and is available on
iTunes
for only one measly dollar. Is this the new format for comics? Is this the way of comics from the future? Are we really that lazy? You'll only know if you tune in this week and check it out!
See amazing huh? Oh fine. here.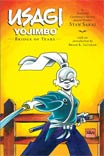 Sean's Pick:
Usagi Yojimbo Vol. 23: Bridge of Tears
Starts @ 00:45
With the celebration of the 25th anniversary of Usagi Yojimbo, this trade paper back has got it all. With a ton of comparisons to
Akira Kurosawa
film being drawn, this series is a must for anyone even remotely interested in samurai or Japanese history. Plus anthropomorphic animals! Don't be driven mad by the fact that there are lizards that can't actually talk like every other animal in it, Henny. An amazing series very worth checking out we won't even ask that you buy all 20 trades like Sean did in a week.
Creators: STORY BY: Stan Sakai / ART BY: Stan Sakai
Henny's Pick:
Daredevil #500
Starts @ 09:30
Despite 16 issues ago Daredevil celebrated its double sized 100th issue, here's issue #500! YEA! In your face continuity! Despite the basic math problems involved here, this is one hell of an issue. With an additional set of back up stories by Ann Nocenti and artist David Aja and a reprint of classic Frank Miller daredevil #191, a huge pinup gallery with gorgeous work done by
Brian Michael Bendis, Geofrey Darrow - 'Geof', Stefano Gaudiano,
Rafael Grampá
(who is @*%$!! amazing by the way), David Mack, Alex Maleev, Joe Quesada, John Romita Sr., and Patrick Zircher how can you possibly go wrong?
Creators: STORY BY: Ed Brubaker / ART BY: Michael Lark
Jonas's Pick:
B.P.R.D. 1947 #2
Starts @ 13:25
Henny's pick of the week was #1 in
Episode #13
Jonas follows up the series with his pick of #2. As the rest of the team hunts for their missing man, a lone agent follows his mysterious benefactor further into the dark recesses of her world. Art by Eisner Award-winning rising stars Fábio Moon and Gabriel Bá keeps us more and more anxious to see how this series progresses.
Creators: STORY BY: Mike Mignola, Joshua Dysart / ART BY: Fábio Moon & Gabriel Bá
John's Pick:
Ultimate Spider-Man #001
Starts @ 17:10
Hmm... so Sean picked this just
one episode ago
for his pick and I didn't even realize it. I blame the fact I'm currently suffering from the swine flu or something, and have had a momentary lapse of sanity (well some moments last longer than others) but I loved the book even more do I dare say than Sean did. This is the Spider-Man title you should be following folks. Amazing Spider-Man comes out weekly, way too rich for my blood and is continually switching artists on the title this one has that damn Lafuente who's just got a clean and awesome style that I'm loving. Even though Spidey's head is a big round-ish I'll still be buying this title for a few seasons to come
Creators: STORY BY: Brian Michael Bendis / ART BY: David Lafuente
Can someone please count up the Obama covers?
Can someone please tell me why chapel is mad-dogging Obama so bad?
Why wouldn't he be excited about him being in office? Why am I still buying Youngblood?